DRAMA CLUB
DOYLESTOWN, PA | AUGUST 2007
Jefferson High School's Drama Club is the last place any of its members wanted to be. When the new principal decides that the club should be disbanded, the well-liked and the socially inept must join theatrical forces under the encouragement and occasional harassment of its impossibly eccentric drama teacher, Mrs. Downy.
Originally performed by
George Achilles,
Kimberlee Arnott-Weidman,
Emily Black, Courtney Bradley, Ashley Coleman, Heather Ellis, Annamarie Hughes, Sarah Hughes, Christopher Hutton, Alyssa Mazzei, John Neuman, Milo Neuman, Stephanie Overton, Kevin Palardy, Page Ridgeway, Vince Ruggieri, Allison Serpico, Christopher Serpico, and Linda Walsh
Director / Playwright / Producer
Brad Ogden
Stage Manager
Morgan Staffaroni
Set Design
Brad Ogden
Scenic Art
Barbara Emch
Sound Design
Scott Connard
Lighting Design
Taylor Ridgeway
Costume Design
Brad Ogden and the cast
Photos
Robin Odland
Poster Art
Pat Achilles
Featured Art
Milo Neuman
​
Powered by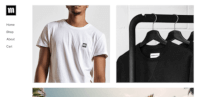 Create your own unique website with customizable templates.